What To Serve With Shepherds Pie?
This post contains links to affiliate websites, such as Amazon, and we receive an affiliate commission for any purchases made by you using these links. We appreciate your support!
Do you love shepherd's pie but have no idea what to serve with it? The possibilities are endless, and your dinner guests will be delighted by whatever accompanies this delicious dish. From vibrant salads bursting with flavor to classic English sides, there is something for everyone when serving up a plate of shepherd's pie.
In this article, we'll explore the best side dishes that perfectly complement the savory ingredients in shepherd's pie. Read on for tasty ideas on what to serve with Shepherd's Pie.
What Is Shepherds Pie
Shepherd's pie is a classic English casserole that consists of minced meat (typically ground beef or lamb) and vegetables such as carrots, onions, and peas. These ingredients are then topped with mashed potatoes before being baked in the oven.
The dish gets its name from its origins in the sheep farming culture of the British Isles. Shepherds would use their leftover meat and vegetables to make this traditional dish, which proved economical and easy to prepare. It is also known as Cottage Pie in some regions.
Is Shepherd's Pie Healthy?
Yes! Shepherd's pie is a great way to get your daily dose of protein and vegetables. This side dish is also relatively low in calories and fat, making it a great choice for those watching their health.
The mashed potatoes used in shepherd's pie can be swapped out for healthier alternatives such as sweet potatoes or cauliflower and cheese. This will result in a dish that is still just as delicious but with added health benefits.
What To Serve With Shepherds Pie?
Due to its hearty nature, homemade shepherd's pie is a great main course for any dinner gathering. Here are some delicious side dishes that pair perfectly with this savory dish:
What Salads To Serve With Shepherd's Pie?
Salads are a great way to add bright and colorful flavors to your dinner plate. Try serving a light green salad with your shepherd's pie, or opt for something more hearty such as a potato salad or coleslaw.
Whatever you choose, make sure that the dressing isn't too heavy, so it doesn't overpower the flavors of the shepherd's pie.
Try one of these side salads:
Coleslaw
When it comes to serving up a hearty and comforting dish like Shepherd's Pie, it's essential to have the perfect side dish to go with it. And what better choice than a classic like coleslaw?
The creamy, tangy coleslaw flavors perfectly complement Shepherd's Pie's savory richness, making for a truly satisfying meal. The crisp, refreshing coleslaw flavors perfectly complement Shepherd's Pie's rich, hearty flavors.
Crunchy coleslaw is delicious; try this recipe!
Potato Salad
Potato salad is a delicious and classic side dish that perfectly complements the heartiness of shepherd's pie. With its creamy texture and tangy flavor, it's the ideal accompaniment to balance out the savory richness of the pie.
Whether you prefer a traditional mayonnaise-based potato salad or something more unique, adding this dish to your shepherd's pie meal will impress your family and guests.
Try this Potato salad recipe.
Tomato and Mozzarella Salad
If you're looking for comfort food, why not pair shepherd's pie with a fresh tomato and mozzarella salad? This simple and delicious salad perfectly complements shepherd's pie's hearty and savory flavors.
The juicy sweetness of the tomatoes and the creamy saltiness of the mozzarella make for a refreshing and satisfying side dish. Plus, it only takes a few minutes to throw together!
Goat Cheese Salad
If you want a lighter side dish to serve alongside your hearty Shepherd's Pie, look no further than a refreshing goat cheese salad. With a tangy and creamy flavor, goat cheese pairs perfectly with crisp greens and your favorite toppings.
Roasted Eggplant Salad
Roasted eggplant salad is a flavorful side dish to serve with Shepherd's Pie. It is a refreshing contrast to the rich flavors of the pie and adds a beautiful pop of color to the plate. Roasting the eggplant gives it a delicious, smoky flavor that pairs perfectly with the earthy tones of the Shepherd's Pie.
Roasted eggplant salad can be easily customized by adding your favorite veggie mixture, such as tomatoes, cucumbers, or tangy feta cheese.
Corn Salad
With sweet corn, juicy tomatoes, tangy apple cider vinegar, and crisp romaine lettuce, corn salad adds the perfect sweetness, tanginess, crunchiness, and freshness to balance the rich and hearty flavors of the Shepherd's Pie.
What's great about this salad is its easy preparation – with a few ingredients and a quick dressing, it can be made in minutes.
Apple Walnut Salad
The combination of a hearty shepherd's pie and a refreshing apple walnut salad may seem like an odd pairing, but it really works. The crisp sweetness of the apples and the crunchy nuttiness of the walnuts tossed in a zesty balsamic vinaigrette provide the perfect contrast to the savory and comforting Shepherd's Pie.
Beet Salad
Beets are often overlooked, but they can be a fantastic addition to any dish. Regarding shepherd's pie, a beet salad can be the perfect side dish to complement the savory flavors of the main course.
The combination of earthy beetroot, zesty orange, and salty feta creates a mouth-watering medley of tastes and textures.
What Vegetables To Serve With Shepherds Pie
The vegetables in shepherd's pie provide an array of colors, textures, and flavors. To complement these, you can serve a variety of roasted or steamed vegetables on the side, such as broccoli, cauliflower, or green beans. These will add a beautiful burst of color to the plate and are an easy way to up the health factor of your meal.
You can also serve roasted root vegetables, such as carrots or parsnips. These will bring out the sweetness in the shepherd's pie and make for a delicious side dish.
Here are some tasty vegetable side dishes that make an excellent accompaniment to Shepherd's Pie:
Crunchy Carrots
Fresh vegetables such as crunchy carrots make the perfect side dish to accompany the hearty flavors of Shepherd's Pie. Not only do they add a vibrant pop of color to the plate, but their sweet and crunchy texture provides a delicious contrast to the rich and savory flavors of the main dish.
Sweet Corn Kernels
Shepherd's pie with sweet corn is a filling dish that will tantalize your taste buds. The sweet corn complements the savory meat of the shepherd's pie, making it a truly fantastic taste experience. Try adding this classic combination to your next meal and enjoy an unforgettable meal tonight!
Here is the recipe for Honey Skillet Sweet Corn.
Broccoli
Serving broccoli with Shepherd's Pie adds a fantastic taste and texture to this delicious and meaty dish. The crunch of the roasted broccoli and the rich flavor of the shepherd's pie makes for a mouth-watering combination!
Make Broccoli In Your Instant Pot
Roasted Garlic Asparagus
Roasted garlic asparagus is a delicious and easy side dish that pairs with shepherd's pie. Asparagus is a nutritious vegetable and packed with flavor when roasted.
Adding garlic to the mix takes the dish to the next level by bringing a subtle yet satisfying hint of savory sweetness.
Roasted Cauliflower
A hearty Shepherd's Pie is the perfect comfort meal on a cold winter night. And when you add in some roasted cauliflower for just the right flavor, it turns this filling meal into something special.
Here is the Cauliflower Recipe!
Mushy Peas
If you want to add some delicious warmth to your Shepherd's Pie, look no further than a side of mushy peas. These tender little green peas are cooked perfectly and mashed into a smooth and creamy consistency, making them the perfect complement to a hearty, savory pie.
Sweet Potatoes
Sweet potatoes baked in an air fryer with olive oil make a fantastic addition to any meal, and they pair perfectly with shepherd's pie! Their natural sweetness and rich flavor provide a delicious contrast to the savory pie.
Baked sweet potato is also incredibly nutritious, packed with vitamins and fiber. Not only will it look and taste amazing, but you'll also give your family a nutritious boost!
Follow this easy recipe to make Air Fryer Sweet Potatoes.
Roasted Brussels Sprouts
Once an unpopular vegetable, Brussels sprouts have made a glorious comeback in recent years. And why not? These little cruciferous vegetables have much to offer, especially when perfectly roasted.
If you're looking for a delectable side dish to serve with your shepherd's pie, roasted brussels sprouts might be a perfect choice.
Try this side dish recipe for making Brussel Sprouts.
Butternut Squash
Looking for an easy way to enjoy your shepherd's pie? Look no further than this butternut squash to serve alongside it! The perfectly balanced flavors of the creamy Shepherd's Pie and sweet, seasonal butternut squash make this an ideal favorite recipe.
Fried Cabbage
Fried cabbage is a tasty side dish with shepherd's pie. This dish features tender cabbage sliced and fried until crispy and golden brown. The cabbage is seasoned with various spices and balsamic vinegar to give it a savory and flavorful taste. The result is a delicious and nutritious side dish perfect for any meal.
What Bread To Serve With Shepherd's Pie
Warm, crusty bread is an excellent pairing for shepherd's pie. Traditional English bread, such as soda bread or cobbler, is perfect for sopping up delicious juices from the meat and vegetables.
For something more filling, you can serve your guests some cheesy garlic pull-apart rolls – these will really please even the pickiest of eaters.
Try these bread side dishes with your traditional shepherd's pie:
Irish Soda Bread
Irish soda bread is a traditional bread made with baking soda and buttermilk. It has a lightly crunchy crust and an incredibly soft center that can be enjoyed both hot and cold. As a classic accompaniment to shepherd's pie, it adds the perfect hint of sweetness to this comforting dish.
Try this Irish Soda Bread recipe!
Hawaiian Dinner Rolls
These Hawaiian dinner rolls are the perfect addition to any shepherd's pie. Soft and fluffy on the inside, slightly sweet and lightly browned on top, these delectable rolls will have your guests asking for more! They are surprisingly easy to make and come together quickly.
Try these Hawaiian Dinner Rolls.
Garlic Bread
Add a touch of comfort to your shepherd's pie with garlic bread! This simple yet delicious side dish is quick, easy to make, and the perfect addition to an already cozy meal. The garlicky twist on your typical bread will add an extra flavor that will surely please any gathering.
Try this Garlic Bread Recipe here!
Cheesy Pull-Apart Rolls
Satisfy your family's taste buds with these homemade cheesy pull-apart rolls. They're delicious as a side for shepherd's pie or as an appetizer. With just a few simple ingredients and minimal effort, you'll have soft, golden, cheesy pull-apart rolls in no time.
Here is an excellent Pull Apart Bread recipe.
Cornbread Muffins
Cornbread muffins are a great accompaniment to shepherd's pie for the ultimate comfort-food meal.
The fluffy texture of the muffins pairs perfectly with the robust and savory flavors of the pie. Baked until golden and slightly crunchy on the top, these muffins bring an extra hint of sweetness to every bite.
Try this Jalapeno Cornbread recipe.
These sides are sure to complete the perfect shepherd's pie meal. Your guests will be happy and full after feasting on this delicious dish. So, don't hesitate to try out some of these tasty side dishes with your next shepherd's pie dinner.
More Sides For Shepherds Pie
Here are some more sides to serve with this classic comfort food:
Shepherds Pie and Yorkshire Pudding
Yorkshire pudding is a classic English side dish made from eggs, flour, and beef fat. It often accompanies roast dinners and shepherd's pie, adding a light and fluffy texture to the otherwise heavier meal.
Smoky Baked Beans
Smoky baked beans are a great side to serve next to your shepherd's pie and mashed potatoes dish. The smoky flavor pairs perfectly with the savory flavors of the pie and adds a nice texture to the dish.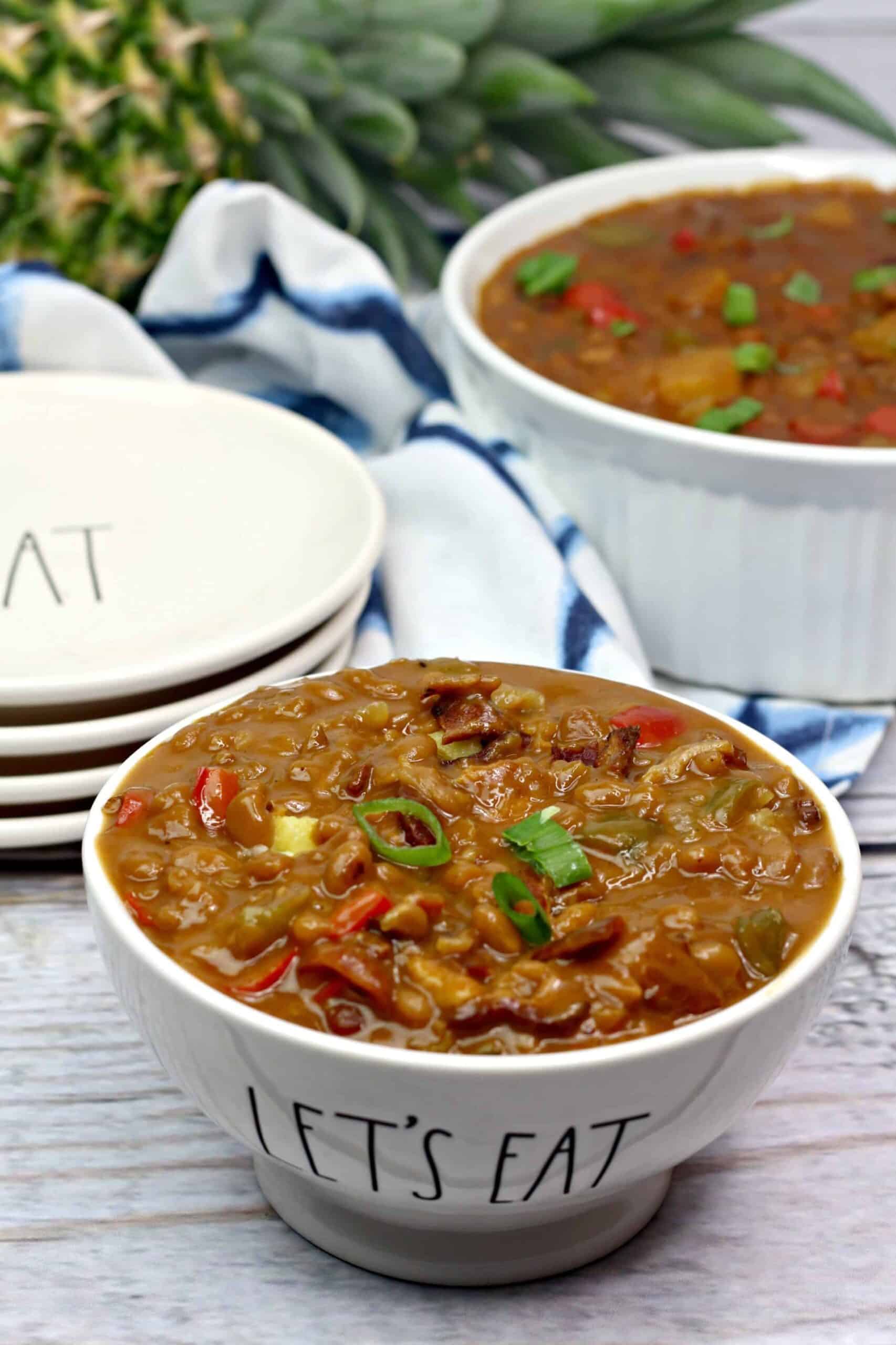 Try these Hawaiian Baked Beans. They are super tasty.
Zucchini Gratin
Incorporate a delicious twist to your regular shepherd's pie with this Zucchini Gratin! This recipe uses layers of thinly-sliced zucchini, gruyere cheese, and creamy Béchamel sauce for the perfect side dish. Each bite is full of flavor and sure to be a hit at your next family dinner.
Grilled Veggies Kabobs
Grilled veggies kabobs are a delicious addition to shepherd's pie. Juicy, colorful vegetables like bell peppers, squash, and mushrooms are skewered onto metal or wooden skewers and cooked over an open flame or grill until all the flavors meld into one fantastic medley.
The hearty and savory flavors from the mixed vegetables bring out the deliciousness in any shepherd's pie.
What Dessert To Serve With Shepherd's Pie?
Last but not least, no meal is complete without a sweet treat afterward. Classic English desserts such as sticky toffee pudding or treacle tart are perfect for rounding off the meal when serving shepherd's pie.
Why not try a simple fruit crumble for something lighter (but still just as tasty)? This is quick and easy to make and can be served with excellent creamy custard.
If you're looking for an exciting way to spice up your savory shepherd's pie, there are plenty of delicious dessert options. Here are some of the best desserts to pair with a classic shepherd's pie:
Creamy Eclair Cake
This Creamy Eclair Cake is the ideal side to a shepherd's pie. It features layers of golden puff pastry filled with a rich and creamy custard and topped with a decadent chocolate glaze. Enjoy this sweet and indulgent treat with your savory Shepherd's Pie and bring joy around the dinner table.
Try this yummy recipe for Creamy Eclair Cake.
Apple Crumble
What's better than a comforting shepherd's pie on a crisp fall night? Serving it with a freshly baked apple crumble, of course! The combination of savory and sweet is a delicious match. The homemade crumble topping perfectly complements the shepherd's pie's creamy potato and meat filling with its buttery, cinnamon-infused crumbs.
Peach Crisp
Peach crisp is a delectable dessert treat that nobody can resist, and it's a fantastic dish that pairs well with shepherd's pie. Imagine spooning warm and juicy peaches topped with a crisp buttery crumble on top of a comfortingly savory pie. The combination is simply impeccable, and it's the perfect way to cap off a hearty meal.
Try this easy recipe to make Peach Crisp.
Lemon Meringue Pie
Are you planning what you can serve with your shepherd's pie? Try lemon meringue pie! This classic sweet and tart dessert will make the perfect addition to your comforting meal. No one can resist this dessert, made with a simple homemade shortcrust pastry, fluffy meringue, and zesty lemon curd.
Banana Cream Pie
Are you in the mood for a classic dessert to complement your savory shepherd's pie? Look no further than a delectable banana cream pie! This dessert is the perfect blend of banana slices, sweet, creamy filling, and flaky crust, making it a crowd-pleaser for all ages.
The contrast of the warm, meaty shepherd's pie with the cool and fruity banana cream pie is a delicious match.
Learn how to make Banana Cream Pie.
Cherry Clafoutis
You might be asking yourself, why cherry clafoutis with shepherd's pie? Well, let me tell you! This French dessert is the perfect way to round out a hearty, savory meal. The combination of sweet cherries and a custardy batter baked to perfection make for a dessert that's not too heavy or overly sweet.
No matter which side dishes you choose, they pair perfectly with your shepherd's pie and make a delicious dinner.
Side Dishes For Shepherd's Pie
Shepherd's pie is a classic English dish that makes an impressive centerpiece for any dinner gathering. With all these delicious side dishes, your guests will surely be delighted by whatever accompaniments you serve.
From vibrant salads to cheesy garlic rolls, there is undoubtedly something for everyone when serving up a plate of shepherd's pie!